24 products
LASHGOD's mission is to provide an unmatched lashing experience
"Built on quality, luxury, and superior client experience", is the LASHGOD mission and vision. It all started 4 years ago with the founder's dream to start a business that provides outstanding services, eyelash extensions products, and be able to help others fulfill their own dreams. LASHGOD's goal is to motivate and encourage fellow dreamers to feel confident, beautiful, strong, and powerful. A perfect way to make every person feel special and perfect in their own unique way. A dream turned into reality and after 4 years of continuous hard work and learning, LASHGOD, which prioritizes lash extension supplies, products, tools, and accessories, expanded. Today, the company has 5 new businesses carrying the same LASHGOD principles, goals, and vision, namely HAIRGOD, NAILGOD, MEDIAGOD, GIRLGOD, and Modern Aesthetics College. Now, you can find Lash God glue, eyelash extensions, supplies, cleansers, tools, and accessories in almost any lash salon you visit. This only shows how hard work, perseverance, and motivation can help you make your dreams come true. Here at Cartel Lash, you can find the latest and most innovative Lash God tweezers, lashes, products, tools, and accessories for an easier, comfortable, and quicker lash application. Browse through our collection today and your clients feel beautiful and confident with LASHGOD products!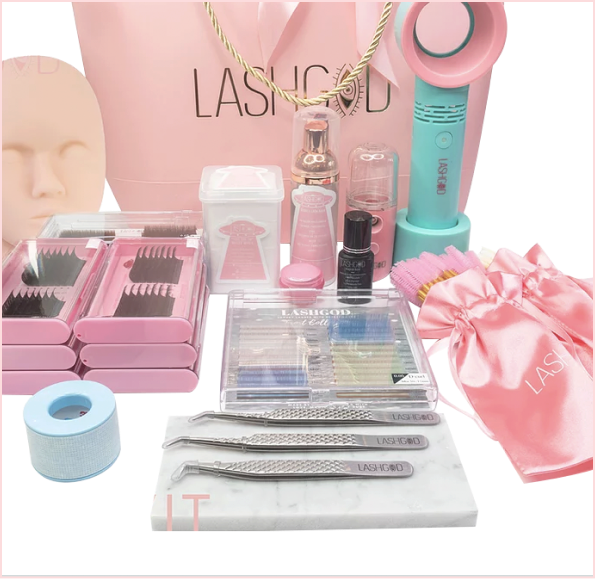 For a superior lashing and client experience, use LASHGOD products
For lash artists, lovers, and salon owners, you surely know who LASHGOD is and its lash extension supplies, products, tools, and accessories. This company has been in the lash industry for 4 years and branched out to different aesthetic businesses. They employ various certified and exceptional talents, artists, and trainers to help produce quality products and teach other aspiring lash artists in their Modern Aesthetics Academy. In this academy, everyone can enroll, learn, and hone their lashing skills to make beautiful and lasting lash extensions. LASHGOD's main goal is to build high-quality eyelash extensions, lashes, adhesives, tools, and other accessories to improve your lashing experience. All these products are made from safe and quality ingredients and materials to make sure they will last (with proper care and storage) and are 100% safe for all lash lovers. At Cartel Lash, we carry Lash god tweezers, lash trays, adhesives, mirrors, and other accessories that will make your next eyelash extension application more fun, convenient, and quick. All of our Lash god glue, primers, potions, lash baths, bonders, and other liquids are ordered straight from the manufacturer in small quantities to make sure they are always fresh and will last for a long time (with proper storage practice). Browsing our extensive Lashgod Collection today!