0 products
Sorry, there are no products in this collection.
Sleek and state-of-the-art technology all in one GLAMCOR light
GLAMCOR was founded by CEO Erik A. Kaiser in the early 2000s. It all started when he noticed the lack of high-quality, sturdy, and portable lighting products in the lash market. The main goal of GLAMCOR is to help artistic professionals, like lash extensions technicians, makeup artists, and hairstylists, have the proper lighting they need. These professionals rely on the brightness of their workspaces to produce outstanding and gorgeous lash extensions, hairstyles, makeup, etc. If they do not have the lighting fixtures or products in their space, it will be hard for lash artists to attach small and tiny eyelash extensions to their client's natural lashes. This is where the GLAMCOR light can help! The company combined cutting-edge technology and sleek design to produce the GLAMCOR ring light that will brighten up your workspace and make it easier for you to attach lash extensions properly. These professional-grade lighting products are perfect for lash rooms without bright light fixtures and don't have that much space. This is why GLAMCOR Classic Elite X is popular with many lash artists. It doesn't consume too much space but it produces the brightest lights without compromising on the design. A must lash extension supplies for all artists. Get this GLAMCOR Classic Elite today at Cartel Lash and brighten up your workspace while you apply lash extensions!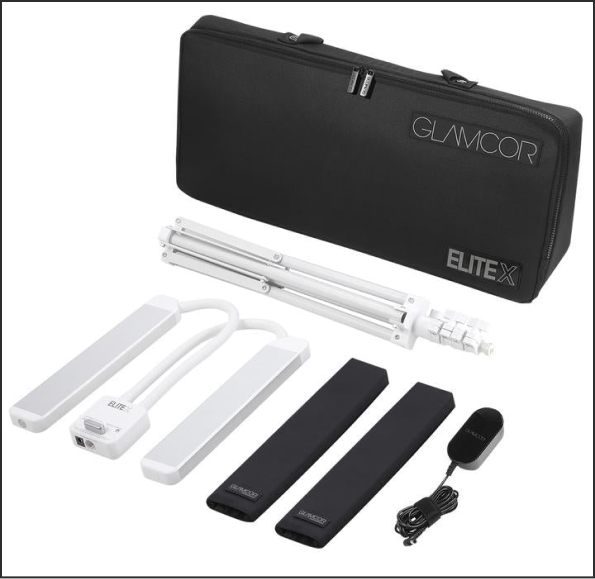 The best portable, durable, and high-quality lighting products from GLAMCOR
GLAMCOR stays true to its goal and intention, to produce and manufacture high-quality, durable, and portable GLAMCOR light products without sacrificing style and design. It started in the early 2000s and fast forward to today, they are still producing, designing, and manufacturing global-leading ingenious lighted products for lash artisans all over the globe. This company has a GLAMCOR ring light to make it easier to take great photos even in dark rooms. It is also ideal for lash artists to see all the natural lashes of their clients for a better lash extensions application. Some of their popular lighting products for many lash technicians and artists are the GLAMCOR Classic Elite X and GLAMCOR Classic Elite 2. These ingenious lights are lightweight and portable with a 5 stage touch dimming feature you can bring anywhere and anytime. They do not consume too much space when you are using them but they produce bright lights that will help you see even the smallest eyelash extensions on your table. This is a helpful lash extension supplies and accessory perfect for techs who provide home services. This powerful light is available at Cartel Lash! Take a closer look at our GLAMCOR light today and turn your lash room and workspace into a bright area for easy, quick, and comfortable lash application.